HKC ALARM
Introduction
The HKC SecureWave range of intruder alarms are the perfect choice for commercial and domestic applications. They come packed full of features like app connectivity, home automation, wireless security and CCTV integration to name a few. The HKC range is sure to impress and with their vast range of features and is sure to ticks all the boxes.  This is one of the systems we recommend to our customers.
Features
It comes with a slim aesthetically pleasing keypad designed to complement modern interiors and comes complete with an extensive audio library.   These come with audio and tag readers, the proximity tag can be used to set and unset the alarm.
The HKC SecureWave comes with an on-board web server which enables the panel to be controlled remotely from either an app on your IOS or Android phone or from your laptop
Other features include
Scalable system
Embedded web server
Multi-panel remote user management
Access control integration
Audio/Video Verification features
Wireless functionality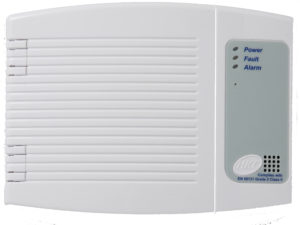 The HKC App enables users to manage their HKC panels from anywhere in the world. It can be downloaded from either the Apple App Store or Google Play store.
The app works seamlessly on both platforms and is very easy to use. In the event of an activation to receive detailed notifications of the event.
Note: In order to use this App you must have a HKC alarm system that is setup with an account with the HKC SecureComm cloud service
Visual & Audible Deterrent
The Deltabell Plus with Backlight is a external sounder that provides both a audible and a visual deterrent for your property.
Get it installed today to keep the burglars at bay….
The Deltabell Plus is a fully backlit external sounder that, when an alarm occurs will create an effective visual alarm on your property, as well as produce a distinctive audible warning.